5th August 1388
Battle of Otterburn
"Last night I dreamed a dreary dream,
From beyond the Isle of Skye,
I saw a dead man win a fight,
And I think that man was I."
The Battle of Otterburn (Sir Walter Scott's Border Minstrelsy)
.
On a moonlit night in Northumberland, the Scots army under James, 2nd Earl of Douglas defeated an 800 strong English contingent under Henry Percy ("Hotspur"), son of the 1st Earl of Northumberland. To some extent both armies were taken by surprise; the English assuming the Scots were some distance ahead of them when they came across them setting up camp. Douglas was killed in the hand- to-hand fighting, but the Scots fought on unaware of the fate of their leader until the English dispersed. Hotspur was taken prisoner and later ransomed.
28th September 1396
Battle of the North Inch
Although the details are subject to much speculation and reinterpretation, this was a planned dual between the Clan Chattan Federation (which comprised clans Mackintosh, Macpherson, MacBean, Davidson, MacGillivrays and Shaws) and Clan Kay, which some historians believe to have been Clan Cameron, traditional enemies of Clan Chattan. For some time, King Robert III had been attempting to persuade the two warring factions to settle their differences amicably and, through the mediation of the 1st Earl of Crawford, it was agreed that a contest would take place. The Chiefs agreed and, in front of a large number of spectators including the King, met on the banks of the River Tay at Perth. Evenly matched, thanks to the last minute recruitment of Henry Smith, a local armourer, a violent conflict took place on the North Inch with Clan Chattan emerging victorious.
22nd June 1402
Battle of Nesbit or Nisbet Moor
Two years earlier there had been an English incursion into Scotland led by the traitorous George, 1st Earl of Dunbar and Henry "Hotspur" Percy. This had left many Border towns and villages in flames until Archibald, 4th Earl of Douglas, husband of King Robert III's daughter Margaret, had chased the perpetrators off.
The Scots retaliated with a series of raids over the Border and looting Carlisle. However, following one such foray a contingent of 400 Scots was confronted and defeated at Nisbet in Berwickshire by Dunbar and a large force of English soldiers.
14th September 1402
Battle of Homildon Hill
(sometimes called
Humbleton Hill
)
This was the outcome of yet another pillaging foray by the Scots into England led by the 4th Earl of Douglas. On this occasion they were intercepted and overwhelmed on their return by an army led by Hotspur and Henry Percy, 1st Earl of Northumberland, himself. Douglas was among the prisoners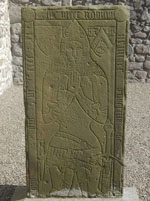 Grave Slab of Gilbert de Greenlaw, Bishop of Aberdeen, slain at the battle of Harlaw in 1411
24th July 1411
Battle of Harlaw
Essentially this was a clan battle fought near Inverurie in Aberdeenshire between the Gaels of the West Coast and the Highlanders of the East Coast. When the Duke of Albany, acting as Regent in Scotland, annexed the earldom of Ross, Donald, Lord of the Isles, marched on Ross with 10,000 followers. Having captured Dingwall Castle, he turned towards Aberdeen where he was opposed by Alexander Stewart, Earl of Mar. A bloodbath followed with Donald retreating back to the Western Isles and there were heavy losses on both sides.
22nd July 1415
Battle of Yeavering
A force of 4,000 Scots invaded northern England while King Henry V was preoccupied at the Battle of Agincourt in northern France. They were decisively defeated on the edge of the Cheviot Hills by 440 men led by Ralph Neville, 1st Earl of Westmorland.
1436
Battle of Piperdean
Dunbar Castle had been forfeited to the Scottish Crown by the 11th Earl of March and, with the assistance of the 2nd Earl of Northumberland, he made an attempt to win it back from its occupant, William, 2nd Earl of Angus, Warden of the Scottish Marches. Angus received warning of this and intercepted the English army at Cockburnspath in Berwickshire, taking a large number of prisoners.
June 1429
Battle of Lochaber
When James I returned to Scotland from captivity in England in 1424, he determined to bring his northern kingdom under his direct control. Alexander, 3rd Lord of the Isles, was equally determined to assert his rights, in particular his claim to the earldom of Ross. He therefore marched his Highland army up the Great Glen and burned the town of Inverness as a challenge. On his return journey, however, the King's supporters caught up with him near Fort William. In the ensuing battle it appears that various clans such as the Camerons and the Mackintoshes changed sides, and Alexander fled to the islands. He later surrendered to James in Edinburgh and following a period of imprisonment in Tantallon Castle was allowed to go free.
Battles (continued)
Follow Us