1332 – 3rd October 1357
The Second War of Scottish Independence
began with the invasion of Edward Balliol, son of the exiled King John, and a party of the "Disinherited", whose lands had been confiscated after King Robert I's victory at Bannockburn. The hostilities officially ended twenty five years later with the signing of the Treaty of Berwick in 1357.
12th August 1332
Battle of Dupplin Moor
King Robert I's death in 1329 revived the claim of the House of Balliol to the Scots throne.
The recently crowned David II, was only four years old, which created a vulnerable situation not helped by the sudden death of his Guardian, Thomas Randolph, 1st Earl of Moray. The following year, David was married at the age of five to Princess Joanna, sister of Edward III of England, which should have alleviated the situation, but it appears not.
Landing at Kinghorn in Fife, Edward Balliol and his followers, backed by the English king, reached Forteviot where they were challenged by an army led by Donald, Earl of Mar, who had succeeded Moray as Regent. A second force led by Patrick, Earl of Dunbar was approaching from the south, but Mar, rather too confident in his strength of numbers, was lax in his watch which allowed the enemy led by Sir Alexander Mowbray to cross the River Tay and make an initial attack. The subsequent arrow fire from the English ranks caused havoc. and both Mar and Lord Robert Bruce, the natural son of the late King Robert, were killed.
A few weeks after his victory, Edward Balliol was crowned King of Scots, but with the general hostility shown towards his faction across Scotland, moved his power base to Galloway.
17th December 1332
Battle of Annan
Four months after his victory at Dupplin Moor, King Edward Balliol and his supporters were surprised and attacked as they slept at Annan, in Dumfriesshire, and forced to flee over the Border into England. The victors, who were loyal to David II, were led by Sir Archibald Douglas, brother of Sir James "The Good" who had died at Teba in Spain in 1330. Also involved were John Randolph, 3rd Earl of Moray, Simon Fraser, and King Robert I's grandson, Robert, High Steward of Scotland.
19th July 1333
Battle of Halidon Hill
Driven out of Scotland by supporters of David II, Edward Balliol appealed to Edward III of England for assistance. Despite King David being his brother-in-law, Edward dropped all pretence of neutrality and decided to invade Scotland on Balliol's behalf. Berwick-upon-Tweed was put under siege and at Halidon Hill, north west of the town, Edward's army confronted the Scots under Sir Archibald Douglas. From the beginning, the English archers wrought havoc on the advancing Scots. Among the Scots dead were Douglas, the earls of Ross, Sutherland and Carrick, seventy barons and five hundred knights.
Edward III did little to press home his advantage, but his success at Halidon Hill was seen by many as avenging his father's defeat at Bannockburn.
30th November 1335
Battle of Culblean (Kilblain)
Scotland was divided between the Balliol and the Bruce factions, and in May 1334, the ten- year old King David and Queen Joan were sent to France where they were placed under the protection of Philip VI. At the same time, the 3rd Earl of Moray and Robert, High Steward, became Guardians of the Kingdom.
The unrest continued, and following a relatively successful skirmish in August 1335, a loyalist army under Sir Andrew Murray defeated David, Earl of Atholl and other supporters of Edward Balliol at Culblean (Kilblain), close to Kildrummy Castle in Aberdeenshire..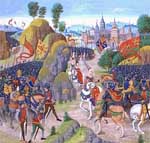 Battle of Neville's Cross, the Froissart of Louis of Gruuthuse, c. 1470
17th October 1346
Battle of Neville's Cross
It was the Auld Alliance with France that drew Scotland into conflict once again with England. By 1346, it had become apparent that Edward III was intent on continuing what would become known thereafter as The Hundred Years War with France, and the unprepared French king Philip VI appealed to the King of Scots for help. Having enjoyed Philip's hospitality for most of his childhood, the twenty-two-year old David II was unlikely to refuse.
Believing the English army to be preoccupied with the Siege of Calais, a Scots invasion of England took place in October with the Scots army taking up a position in Durham. The English, however, were prepared and an army from Cumberland, Northumberland and Lancashire had been mobilised by the Archbishop of York.
King David took up a position at Neville's Cross, the site of an ancient Anglo Saxon stone, and the battle commenced with neither side making any progress until the English longbowmen arrived. When it became clear that the battle was lost, Robert the Steward and the Earl of March retreated allowing the King to be captured. Among the dead was the former Regent, the 3rd Earl of Moray. King David spent the next eleven years of his life as a prisoner in London.
In 1357, following a treaty signed at Berwick-upon-Tweed, King David was released on the promise of a ransom of 100,000 merks. He returned to Scotland at once, but soon discovered that he was unable to meet the ransom demands. Queen Joan died in 1362, and although David married again, this time to Margaret Drummond, there was no children from either union. He died at Edinburgh Castle in 1371 and was succeeded by his half-uncle who became Robert II. Swathes of southern Scotland remained under the control of English forces, so he allowed his nobles licence to attempt to regain their territories.
25th June 1380
Battle of Benrig
(sometimes called
Horse Rigg
)
With William, 1st Earl of Douglas, invading the West March of England, the Scots under George, Earl of Dunbar & March, defeated a force of 200 English near St Boswells led by Ralph, 3rd Baron Greystoke who was on his way to take possession of Roxburgh Castle. Greystoke was imprisoned in Dunbar Castle and later ransomed.
Battles (continued)
Follow Us