1296 - 17th March 1328
The First War of Scottish Independence
began when King John Balliol of Scotland refused to support King Edward I of England in his French campaign. Hostilities came to an end after thirty two years with the signing of the Treaty of Northampton in 1328.
27th April 1296
Battle of Dunbar
When King John Balliol of Scotland refused to support King Edward I of England in his French campaign, Edward marched an army on Scotland. After capturing Berwick-upon-Tweed, he lingered for a time before marching on Dunbar. The Scots occupied the high ground but as the English broke ranks to cross a gulley, they abandoned their position assuming that the enemy was dispersing. The result was that the Scots were decimated in a single charge. Large numbers of Scottish noblemen were subsequently taken prisoner and either executed or pardoned.
July 1297
Battle of Biggar
To avenge the death of his wife, Marion Braidfoot, who had been miserably killed by William Heselrig, the English Sheriff of Lanark, there is a local tradition that William Wallace and his guerilla forces won a significant victory over the English on the outskirts of the Peeblesshire town of Biggar.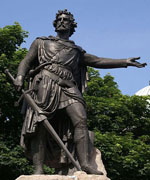 Sir William Wallace, Aberdeen, William Grant Stevenson (1849–1919). Bronze statue, 1888
11th September 1297
Battle of Stirling Bridge
Having been victorious at Dunbar a year earlier, Edward I's commanders John de Warenne, 7th Earl of Surrey, and Hugh de Cressingham, seriously underestimated the determination of the Scots to be free from English domination. The bridge at Stirling was only wide enough to allow two horsemen to cross side-by-side, and the Scottish leaders William Wallace and Sir Andrew Moray allowed the English army to cross the bridge, thus creating a bottleneck, before attacking. As a consequence, the English were massacred and Surrey retreated to Berwick.
One tragic outcome was that Sir Andrew Moray was killed in the fighting. Soon afterwards, Wallace was knighted by the nobles of Scotland and appointed Guardian of Scotland. The site where the battle took place is upstream from today's Stirling Bridge.
22nd July 1298
Battle of Falkirk
Incensed by the news of his army's defeat at the Battle of Stirling Bridge, Edward I of England, who had been preoccupied fighting the French in Flanders, returned home to march on Scotland. After various set-backs en route, Edward discovered that the Scots were at Callendar, close to Stirling, and seized the initiative. It was the efficiency of the English longbows against the Scottish spear men which won the day, and it is estimated that over 2,000 Scots were killed. Nevertheless, the English army which numbered almost twice that of the Scots force suffered a similar number of casualties.
With a large number of the survivors having deserted the cause, Sir William Wallace resigned as Guardian of Scotland.
24th February 1303
Battle of Roslin Glen
This was a victory against the occupying forces of Edward I of England and although of considerable significance, does not have the pre-eminence it surely deserves, possibly because it did not involve particularly large numbers.
An English force under Sir John Segrave was marching north from Northumberland, supposedly towards Linlithgow, when they were surprised by a contingent of Scots led by John Comyn and Simon Fraser beside Roslin Glen on the outskirts of Edinburgh. During the confusion, the English army was divided into three, so that there were, in effect, three confrontations. It was an overall victory for the Scots and it was said afterwards that the waters of the River North Esk ran red with blood.
Circa February 1304
Battle of Happrew
Men under Sir William Wallace and Sir Simon Fraser were defeated by soldiers led by Sir John Segrave near Peebles. The following year, Wallace was captured at Robroyston, near Glasgow. He was taken to London and executed.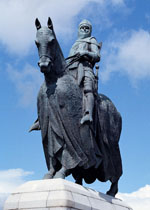 Robert the Bruce at the borestone, Bannockburn, Stirling. Charles d'Orville Pilkington Jackson (1887-1973). Bronze statue, 1964
19th June 1306
Battle of Methven
Although implicated in the murder of his cousin John Comyn at the Church of the Greyfriars in Dumfries, Robert the Bruce was nevertheless inaugurated as King of Scots in the following month at Scone. So far as Edward I of England was concerned, this was an outrage, and he appointed Aymer de Valence, Comyn's brother-in-law, to give no quarter to Bruce or his followers. Valence and the Comyn faction therefore based themselves in Perth. Bruce's soldiers were quartered nearby at Methven, but were surprised during the night and were all but destroyed. Bruce escaped, but after this he abandoned knightly chivalry and resorted to Wallace's more ruthless guerilla tactics.
11th August 1306
Battle of Dalry
(sometimes known as
Battle of Dalrigh or Strathfillan
)
Having gone on the run and retreating west from their defeat at Methven, King Robert's supporters were confronted near Tyndrum in Argyll by the MacDougalls of Argyll, who were related to the Comyn Family. Tired and demoralised, the King's men who had survived the earlier battle were once again routed, but Bruce managed to escape.
April 1307
Battle of Glen Trool
This was a minor skirmish, but nevertheless a victory for the Scots. King Robert had been a fugitive for several months, but in the spring of 1307 re-appeared in Galloway with a force of Highlanders. After a raid on an English encampment on Clatteringshaws Loch, Aymer de Valence was advised that Bruce was to be found at the head of Glen Trool in today's Galloway Forest Park. He sent his cavalry commander John Mowbray off to capture him, but Mowbray's men were ambushed and driven back and Bruce and his men disappeared into the surrounding countryside.
Battles (continued)
Follow Us